Keurig K-Select Review
The Keurig K Select offers a relatively simple and straightforward coffee brewing experience.  Making or brewing your morning cup of Joe couldn't be much simpler.  Once the water is done warming up just lift the handle, insert the k-cup of your choice and close the handle.  Next choose your cup size by pushing the corresponding button.  If you want stronger coffee use the Strong Brew button first and then choose your desired cup size.  If starting from scratch on average it will take less then 120 seconds to warm and brew an 8 oz cup of coffee
Also the K-Select keeps many of the same features classic series models have such as Quiet Brew Technology, removable drip tray, programmable auto off and removable water tank.  The detachable water reservoir has a 52 oz capacity which should allow you to brew 4-5 cups of coffee before having to refill with water. Buttons are placed on top of the coffee maker for easy use.
This version of the Keurig has a slimmer design, a larger water reservoir, and the option to now brew a 12 oz cup of coffee when comparing to past classic versions of the Keurig.  An added bonus is you can use any type of K-cup unlike a lot of newer Keurig models since there is no scanner with the K-Select model.
Click Here to see Current Price of the Keurig K-Select
To view features and see the Keurig K-select in action view the embedded video below….

What comes in the Box
Keurig K-Select
Bonus 6-count K-Cup pod variety pack
Water filter handle
Filter to help ensure your beverages taste their absolute best

Features
Brews multiple cup sizes:  6, 8, 10, 12 oz
Strong Brew button:  Push the Strong button before selecting your brew size to kick up your coffee's strength and intensity.
Smart start:  With this feature there is no need to wait for the brewer to heat up.  It heats and then brews in one simple process.
Auto Off: Saves you energy by automatically turning off the brewer after 2 hours on inactivity.

High Altitude Brewing:  If you live at altitude 5,000 feet or higher it is suggested you use this feature to ensure brewer works correctly.  What this feature does is lower the overall temperature of the brewing system so it brews at 192 degrees Fahrenheit.
SIMPLE BUTTON CONTROLS:  Just insert K-cup pod, then select your desired cup size and your on your way to your coffee.
LARGE 52oz WATER RESERVOIR:  Reservoir is removable which makes refilling with water easy.  Allows you to brew up to 5 cups of coffee before having to refill the reservoir thus saving you time if you have to brew multiple cups.
BREWER MAINTENANCE REMINDER:  Device will alert you when it's time to descale your Keurig.  Descaling is important since the process removes calcium deposits that have built-up over time.  Check out this guide to Descaling Keurig with white vinegar.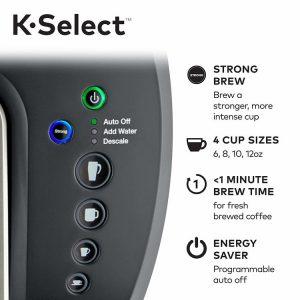 Specifications
 Voltage: 120VAC / 60 Hz
Size: 11.6 x 9.2 x 12.5 inches
Net Weight: 7.35 pounds
Item number model: K-Select
What consumers say about the Keurig K-Select
The majority of consumers have rated the Keurig K-Select single serve coffee maker very positively.  Read below for the things consumers consistently say they like the most about this single cup coffee machine:
 Customers love that it doesn't take very long for the water to heat and then it can make multiple cups without waiting long for the
next cup's water to be hot.
Allows 4 choices of brew sizes
Machine is compact, light and very easy to use.
Don't have to worry about buying a certain type of K-cup since there is no DRM restrictions with this device.
All products have issues and the Keurig K-Select is no different.  Read below for the most common problems and issues consumers  have experienced while owning this single cup coffee maker:
Most common problem some customers seemed to have was water just dispenses when the unit is powered on and doesn't stop unless you shutoff the device.
Another common issue is some customers stated the machine would just randomly power off when brewing a cup of coffee.
As with most products the machine came DOA or damaged when opened and used for the first several times.

Click Here to view Current Price and Reviews of the Keurig K-Select
PROS
Works with all types of K-Cups.  Keurig branded and non-branded work as device does not have scanner
Four different brew size options including 12 oz.
Strong Brew feature.
Quick heat time with SmartStart feature
Fingerprint-resistant finish
Removable water reservoir
More compact size and design than some earlier Keurig models
CONS
Can't customize water temperature when brewing
No auto-on feature
Buttons are physical, not digital which limits options
Overall Impression of the Keurig K-Select
The Keurig K-Select is a personal coffee cup maker that should satisfy every member of the family.  It brews 4 different coffee cup sizes and their is a choice to strengthen the brew with a touch of a button.  This device is very straight forward and very simple to use regardless of age.  It can also fit most travel mugs by easily removing the drip tray at the bottom of the unit.  Perhaps most importantly, it will allows every member of the family the ability to personalize  their cups of coffees without the reservoir having to be constantly refilled with water.
With it's small size and light weight it will fit most counters with ease.  Thus making it an idea choice for those in small apartments or college dorm rooms.  Plus without DRM enabled on the device those on a budget can save money by buying 3rd party k-cups instead of the more expensive Keurig ones.  Making this an idea gift for a college student or first time on their own individual.
So, if you're looking for a single-cup coffee maker that is very easy to use this may be just be the device for you. Overall, the Keurig K-Select is a decently priced single serve coffee maker that gives you the ability to make a quick cup of coffee for you to start your morning.  Sure there are some negatives that we went over above but Keurig is very popular for a reason.  Their products just work and the end result is usually pretty good.  This unit does have some options older versions don't such as the ability to brew a 12 oz cup of coffee, smaller slimmer design, and a larger water reservoir.  In our opinion this would make an excellent choice if you are looking to upgrade or replace your older Keurig coffee machine.