Keurig K575 Reviews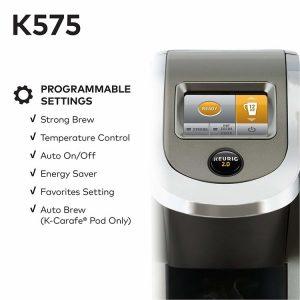 The Keurig K575 coffee machine is a 2.0 Keurig system.  This means it comes equipped with an optical sensor which can limit the use of some non Keurig approved K-Cups and some additional features previous Keurig models lacked.  Some key new features are a larger water reservoir, ability to change brew temperatures, and a strong brew setting.  These features have long been asked for by Keurig consumers and finally have been released making this a versatile coffee machine.
With it's premium platinum color the K575 is a sleek and stylish addition to any kitchen.  This machine is not all looks though. Once you experiment with the settings it can brew a perfect cup of coffee every time. The hot water spout for tea or soup is a big time saver over having to wait for a kettle to boil.  Read our complete review below to see if the Keurig K575 would make a good addition to your home or office space.
Click Here to View Keurig K575 Current Price
What Features are on the Keurig K575 ?
Lot More brew sizes to choose from:
K-Cup brew sizes
K-Mug brew sizes (K-Mug sold separately)
K-Carafe brew sizes (K-Carafe sold separately)
A larger water reservoir:
The K575 has one of the biggest water tanks on any Keurig model.  This model's water reservoir holds 80oz of water meaning you can brew up to ten cups without having to refill the tank with water.
The water reservoir is also removable which makes it easier to refill with water and to clean. This water reservoir also has several different nightlight colors to illuminate your kitchen at night so you can see when you get your late night snacks without having to turn on the overhead lights.
Brew Strength Control:
Comes equipped with a strength control button which allows you to brew a bolder cup using any K-Cup pod brew size.
Brew Temperature Options:
You now have five temperature settings which will allow you to enjoy your favorite beverage at your desired temperature.
Extra-Large Color Touch Screen:
Comes equipped with a huge digital clock which makes it see what time it is.  Also makes it easier to go through and select all your different options with it's large sized screen.
Energy Savings:
Gives you the ability to program your brewer to turn on or off automatically at set times.  So your water is already  to go when you want it  and all you need to do is push the brew button.  Will also turn off to conserve energy and save you money.
Keurig K575 Specifications
Product dimensions:  13.2" H x 10.5" W x 13.3" D
Product Weight: 

13.7 lbs

Item Model Number:  K575
What consumers say about the Keurig K575
The majority of consumers have rated the Keurig K575 single serve coffee machine positively.  Read below for the things consumers consistently say they like the most about this coffee machine:
Most consumers loved the ease of use of this Keurig coffee machine and its many features.
New features such as making stronger coffee and the ability to raise or lower the temperature of the water.
Others loved the larger 80 oz water reservoir meant less times having to refill with water.
All products are bound to have issues.  Read below for the most common problems and issues consumers have experienced with this machine:
The most prevalent complaint from consumers is that coffee grounds seem to get everywhere on some units.  This either resulted in clogs in the needles, a mess on the counter and machine, or coffee grounds getting into your cup of coffee.
Another common issue is some consumers have complained about the device producing a plastic taste and smell to their coffee.  With some it goes away by descaling with vinegar and others it remains even after the descaling process.
Usual complaints as with almost every product of unit breaking after short period of time or receiving a damaged or DOA machine.

Click Here to see Current Price and Reviews of the Keurig K575
Pros
Huge water reservoir
Water Temperature can be adjusted
Can brew stronger coffee than most Keurig models
Ability to brew into carafe
Cons
Can take a little longer to heat water due to huge reservoir
Optical sensor can limit the use of some K-Cups
Some complaints on coffee grounds getting everywhere
A little more expensive than other Keurig models
Overall Impression of the Keurig K575
In our opinion the Keurig K575 is perfect for anyone who wants a decent cup of coffee that is easy to make and appreciates having plenty of options.  If setup and run correctly the speed at which this device works is perfect for anyone with a larger family or those who regularly entertains.  There is no messing around in between just select your K-Cup insert it and then press the button.  If the water is already heated then you will have each cup in 1 minute or less.
For those Keurig loyalists you will be in heaven since the K575 comes with a huge 80 oz water reservoir and allows you now to adjust the water temperature.  Lots of previous complaints about water temperature should go away now since you now have the option to choose for yourself.  A word of caution though, with options means you may have to experiment a little to find which options you like best.  For instance you may have to try several different temperatures and brew strength combinations until you get your perfect cup of coffee.  So if you go in with an open mind and are willing to be a little patient then I think you will be rewarded with a good cup of joe.
On the other hand this may not be the coffee machine for you primarily for three reasons.
First if you have limited counter space this machine might be a tad big for your space.  Don't get us wrong this machine isn't some huge hulking machine.  Although it is larger then most previous models due to Keurig making a larger water reservoir and larger screen.
Secondly, this machine might not be for you if you have a lot of old or use primarily 3rd party K-Cups or capsules.  This unit does have a optical scanner or sensor so some K-Cups may not work.  Although most consumers say they don't have any issues while using different types of K-Cups you never know if favorite non-approved K-Cup will work unless you do some deep research beforehand.
Lastly the final reason comes down to price.  The new Keurig 2.0 machines arer a little more expensive then previous models.  Usually when upgrades occur prices will increase slightly and this Keurig device is no exception.  If you feel you don't need or want all the extra features we would suggest looking at a cheaper simpler model such as the Keurig K-Select.