Breville Nespresso Vertuo Review
The Breville Nespresso Vertuo is a single serve coffee machine that can bring lovers of coffee together.  Before you would have to buy a coffee machine if you just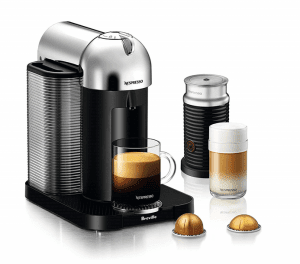 wanted coffee.  On the same note if you loved Espresso's or Cappuccino's you would have to buy a dedicated machine for those as well.  But with the Nespresso Vertuo you only need one machine if you like both.
Vertuo brand machines aren't exactly inexpensive.  What you do get for the extra money is superior design and usability.  With the Nespresso process your daily cup of caffeine will feel and taste more gourmet than other brands.  If you are interested in a machine that makes both coffee and espresso and is very easy to use then the Vertuo line is very good option.
Click Here to see Current Price of the Nespresso Vertuo
So what are the exact specs of this multi-functional machine? Is the price  worth it compared to other coffee makers? What should you expect when you take this device out of the box?
Read on for an in-depth review of the Nespresso Vertuo….
What comes in the box
Nespresso Vertuo Coffee machine
Aeroccino 3 Milk Frother
12 VertuoLine capsules box
Nespresso welcome material
User manual
Features on Nespresso Vertuo
Check out embedded video below to see the Vertuo in action and how to use….
5 Cup Sizes:
– Alto Coffee (14 oz)
–  Coffee (8 oz)
– Gran Lungo (5 oz)
– Double Espresso (2.7 oz)
– Espresso (1.35 oz)
Centrifusion extraction technology:
Breville Nespresso Vertuo coffee makers use a patented extraction technology known as Centrifusion.  Once the capsule is inserted and the lever is closed the capsule will spin up to 7000 rotations per minute.  This process blends the ground coffee with water and then dispense the perfect amount of crema so you can enjoy your freshly brewed coffee or Espresso.
Automatic blend recognition:
The Vertuo uses intelligent extraction therefore it can recognize each Grand Cru blend.  Therefore there is no need to change any settings.  The brewing parameters are embedded on a barcode on the rim of each capsule.  Once the barcode is read the brewing parameters are adjusted automatically depending on the selected Grand Cru.
One-touch brewing
With the touch of a single button you will have the ability to create exceptional freshly brewed coffee or an authentic Espresso.  The capsule even is automatically ejected after brewing.  Only takes about 15-20 seconds to preheat the water.
Specifications
Dimensions (WxHxD ): 8.3×11.91×11.93 in.
Weight: 10.85 lbs
Heat Up Time: 15 seconds
Water Tank Capacity: 40oz./1.2 L
Used Capsule Capacity: 13 Coffee/20 Espresso
Power: 1350 W
Brewing Technology: Centrifusion Technology
Cable Length: 33.46 in.
Removable Water Tank: Yes
Power Save Mode: Yes
What consumers say about the Nespresso Vertuo
The majority of consumers have rated the Breville Nespresso Vertuo coffee machine very positively.  Read below for the things consumers consistently say they like the most about this single serve coffee machine:
Almost all customers agree that the Vertuo makes a great cappuccino and espresso.
Hardly any complaints about the milk frother either and even those with complaints about the device love the milk frother.
In general the vast majority of reviews are positive and consumers love the results of this single serve coffee machine.
All products have some kind of issues.  Read below for the most common problems and issues consumers have shared they have experienced when using this single serve coffee machine:
The most common complaint from consumers who have had issues is they feel the temperature of the water doesn't get hot enough when brewing just coffee.
Another common complaint is that the pods are expensive and can add up over time.
Usual product complaints of device arriving damaged, missing parts, DOA.
Click Here to View Current Price and Reviews of the Breville Nespresso Vertuo
Pros
Simple and very easy to use.
Large 40 oz water tank.
Built for milk-based coffee usually reserved for more expensive models.
Milk Frother performs great.
Makes great tasting cappuccino's and espresso's.
Sleek Modern design
Cons
Price of pods.  Can be almost double the price of a K-Cup.
Can't use other brand capsules.
Some issues with water temperature when using coffee feature.
Overall Impression of the Nespresso Vertuo
Who should look to buy the Vertuo
In our humble opinion the Breville Nespresso Vertuo is a quality, good looking multi-purpose single serve coffee machine.  If you drink either Espresso or Cappuccino's along with regular coffee daily then this device is perfect for you.  Even though Nespresso's Vertuo is a bit more in price than a Keurig, it's still pretty inexpensive for what it does.  Which is providing a simple coffee making system that literally does everything and produces more than just an espresso or cup of coffee.
The Nespresso Vertuo is very simple to use and is pretty much a one button operation.  If you are a fan of milk-based coffees then you will love this coffee machine.  With just a touch of a button you can have perfect amount of milk or crema in the caffeine beverage of choice.  So you pretty much have a single serve coffee machine that is crazy easy to use and produces a pretty good product.
Who should stay away from the Vertuo
So who should not get this machine?  We feel it would be a waste of money and features for those who primarily drink regular coffee.  If you or someone in your household don't drink espresso or Cappuccino's regularly then I wouldn't even think of buying this device.  First of all the capsules can cost up to double of the cost a K-Cup.  Therefore you can buy a cheaper coffee maker that is dedicated to just regular coffee.  Secondly, this machine is more geared toward Italian type coffee and since the capsules are proprietary if you don't like the flavors then you might not get much use out of the machine.
Final Thoughts on the Breville Nespresso Vertuo
Ultimately will this device beat the local coffee shop for a properly layered cup?  Probably not ,since they have big high-end machines and therefore can choose the beans and control how the process is made.  What this device will give you instead is more time and money with a very good product.  No longer having to wait in line and spending around $5 a cup.  Instead, in around a few minutes you can have your own almost coffee shop quality cup of  caffeine for a fraction of the trip to the local coffee shop.